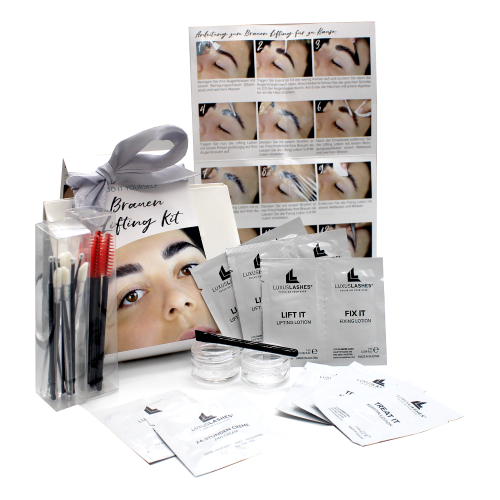 Brauen Lifting Kit
Do it yourself Brauen Lifting Kit
With the brow lifting kit from LUXUSLASHES you bring out your eyebrows better. Shape and fix as you like.
Taming unruly, misshapen brows - A new unique treatment:
LUXUSLASHES® brow lift
smoothes unruly eyebrows and gives the brow a new shape
makes narrow brows look significantly more voluptuous
fills eyebrows with keratin, proteins and strengthens the hair
lasts 4-6 weeks
Gone are the days of unnatural, densely traced and exaggerated eyebrows. The trendy "Feather Brows" are characterized by exactly that - the visibility of the individual hairs. The eyebrows appear thicker, more voluptuous and are in shape.
No downward-growing eyebrows, but rather beautiful, aligned brows. You can then color and style them perfectly.
Contents: 1x glue, 3x Liftit, 3x Fixit, 3x keratin, 6x mascara brushes, 6x cleaning applicators, 6x microbrushes, 1x brush
YouTube Video
An dieser Stelle wird eine Video von YouTube angezeigt, sobald Sie zustimmen. Das Video lädt Inhalte von Google. Weitere Information finden Sie in unserer Datenschutzerklärung.
Video abspielen