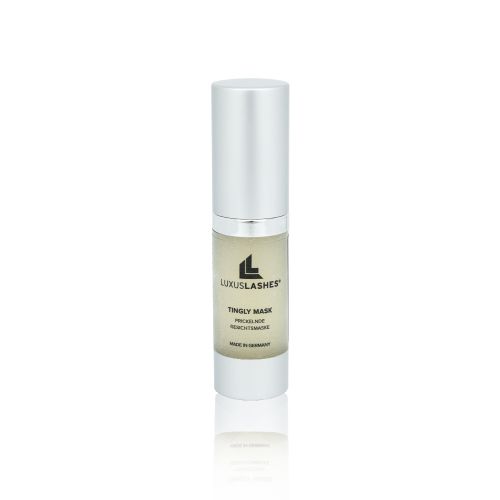 TINGLY MASK
Erfrischende, prickelnde Gesichtsmaske. 15 ml
DESCRIPTION
An exclusive mask with moisturizing, cleansing and firming properties. It forms a tingling foam shortly after application.
Perfluorodecalines quickly penetrate the skin, improve elasticity, relax muscles and reduce wrinkles. When loaded with oxygen, a tingly feeling is created, the skin is well supplied with blood. Cerasomes penetrate deeper into the skin, reduce wrinkles, revitalize and rejuvenate the skin. A glycoprotein from the bacterial strain Pseudoalteromonas from arctic regions protects the skin from drying out and in extreme cold, promotes regeneration, elasticity and reduces deep wrinkles. Champagne extract is ideal for sensitive, irritated skin after shaving, has protective, anti-irritative, vitalizing properties. The polysaccharides they contain form a protective film on the skin and protect against dehydration. The immune system is also stimulated. The enzyme papain from papaya is mild to the skin and reduces skin irritation. Studies show significant advantages over glycolic and AHA acids in terms of redness and irritation. It is as effective as fruit acid peeling, but is milder on the skin and supports the accelerated regeneration of the skin. Green alga Ulva Lactua (also sea lettuce) it stimulates the production of skin substance, the facial proportions are reorganized, the most important functions are the stimulation of hyaluronic acid and collagen synthesis. The signs of premature aging are reduced and, above all, the elasticity and firmness of the skin are improved. Liposome-encapsulated vitamins ACE are a combination of strong antioxidant vitamins that help to prevent oxidative skin stress. Via its carrier system, the liposomes, they achieve increased bioavailability. A moisturizer, modeled on the natural moisturizing factors (NFF) of the skin, protects the skin from moisture loss and at the same time increases its moisture content. It contains a hygroscopic (moisture-binding) substance and sugar compounds (mono- and disaccharides) in a natural combination with amino acids and urea. An ingredient that slightly stimulates blood flow supports the local blood flow to the skin to ensure optimal hydration.
APPLICATION
Apply mask to cleansed face and décolleté with a little water and lather with your fingers. Let the tingling foam work for 10 to 15 minutes and then rinse off thoroughly.
INHALTSSTOFFE
AQUA (WATER), PERFLUOROHEXANE, COCAMIDOPROPYL BETAINE, BUTYLENE GLYCOL, PERFLUORODECALIN, XANTHAN GUM, TREHALOSE, PHENOXYETHANOL, PENTAFLUOROPROPANE, PARFUM (FRAGRANCE), GLYCERIN, SACCHARIDE ISOMERATE, SODIUM LAUROYL GLUTAMATE, ACACIA CONCINNA FRUIT EXTRACT, BALANITES AEGYPTIACA FRUIT EXTRACT, PROPYLENE GLYCOL, HEXYLENE GLYCOL, ETHYLHEXYLGLYCERIN, SODIUM HYALURONATE, PSEUDOALTEROMONAS FERMENT EXTRACT, BENZOIC ACID, OXYGEN, DEHYDROACETIC ACID, HYDROLYZED ULVA LACTUCA EXTRACT, SQUALANE, ALCOHOL, LECITHIN, GYPSOPHILA PANICULATA ROOT EXTRACT, CAPRYLIC/CAPRIC TRIGLYCERIDE, FRUCTOSE, GLUCOSE, PAPAIN, SIMMONDSIA CHINENSIS (JOJOBA) SEED OIL, POTASSIUM SORBATE, SODIUM BENZOATE, MALTODEXTRIN, 1,2-HEXANEDIOL, CAPRYLYL GLYCOL, CARBOMER, CITRIC ACID, SODIUM CITRATE, UBIQUINONE, GLYCOSPHINGOLIPIDS, SUCROSE PALMITATE, SUCROSE, UREA, DEXTRIN, SALICYLIC ACID, SORBIC ACID, ALGIN, WINE EXTRACT, SODIUM HYDROXIDE, ALANINE, ASPARTIC ACID, GLUTAMIC ACID, HEXYL NICOTINATE, HAEMATOCOCCUS PLUVIALIS EXTRACT, TOCOPHERO