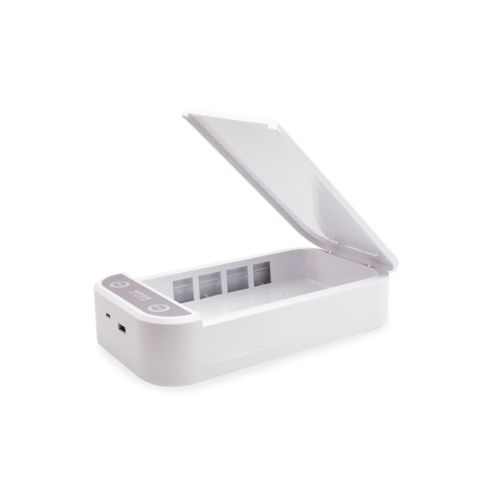 UVA Desinfektionsbox
Desinfektionsbox, Luxuslashes
Ultraviolet Sterilizer - This UV sterilizer reliably sterilizes your belongings up to 99.9% against viruses and bacteria, even in hard-to-reach corners. Simply press the switch to start sterilization. The indicator lamp then lights up blue and switches off automatically after 3-5 minutes and when cleaning is complete.
The large UV light sterilizer is suitable for cell phones and cell phones with a size of up to 6.5 inches, as well as computer mice, face masks, tweezers and other things. .
Using a cell phone sterilization box can not only keep your items in a sterile condition, but the UV sterilizer works like an aromatherapy diffuser. Just add a few of your favorite aromatic drops, your phone will be fresh as it disinfects.
4 LED indicator lamps 25% - 50% - 75% - 100% show the work progress. The voice functions indicate when the disinfection started and when it is finished. So that you are always informed about the status of the device.
It has the characteristics of long service life and high permeability. The service life is up to 10,000 hours. It's exactly the same as the sterilization technology used in the health center. The principle is to destroy and change the DNA structure of microorganisms so that the bacteria die immediately or no offspring can multiply. Purpose of sterilization.
Packed in a box, it is the ideal gift against bacterial phobia and an indispensable gadget for anyone for whom hygiene is important or perhaps always necessary.
Technical characteristics:
Outside size: 225 * 123 * 50mmA
Inside size: 178 * 103 * 30mm
Rated voltage: DC5V
Disinfection power: 2x1W
Aromatherapy function: 2W
Power: 9W
UV wavelength: 253.7nm
Use:
1.USB charging process: Press the function button, the LED will light up.
2. Press the left disinfection switch. A voice sounds, the disinfection starts, the dual UV light starts to shine and the process display flashes and moves forward step by step. After approx. 5 minutes, when the process bar has reached 100%, the disinfection is complete and the UV light goes out automatically.
3. Press the right aromatherapy button, the voice output will sound and the aroma progress is in progress. The process display flashes and continues to move step by step, so that after approx. 3 minutes, when the progress display has reached 100%, the aromatherapy function is automatically switched off and the UV light goes out.